Men of Steel
Posted on - January 14, 2019
What do you think of when you hear the word 'steel'?
Strong, tough, …durable even…?
Those qualities could be used to sum up our installation team.
And it's some of these properties that make our Stainless Steel 45 External film so good too.
Installed by us, it can last for ages, providing excellent protection against heat and glare.
It's also really good at preventing the adverse effects of UV rays — which can play havoc with soft furnishings, fabrics and artwork, causing them to fade.
This client in sunny Kingsbridge, Devon has a modern home designed to resemble a trendy industrial building.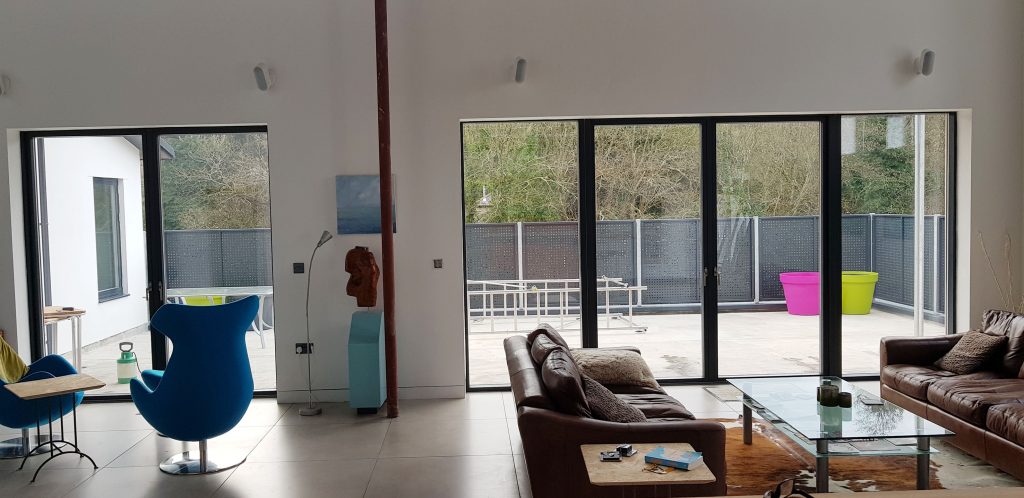 It's a great place – but was suffering from bad glare and heat from the sun and the lovely bi-fold doors needed to have UV protection.
Steel crazy
Stainless Steel 45 was the perfect fit — sorting out all the problems and blending in with the look and feel of the property too.
Shame the word 'stainless' couldn't be so readily applied to our Kev's appearance — but you have to say he's done a great job.
Still crazy
Was a 1998 comedy film about defunct fictitious band Strange Fruit — featuring Bill Nighy and  Jimmy Nail as old rockers trying to make a come back.
Anyone who's ever been in a band will appreciate the finer points of reference — it's in the same sort of vain as Spinal Tap. If you haven't seen it — check it out [watch sample clip here].
Steel Panther on the other hand are a pastiche glam rock band from LA famed for their profane and humorous lyrics.
Man of Steel
Man of steel was a 2013 Superman remake which sort of made him cool again.
Superman played by Christpher Reeve in 1978 started a series of Superman films, which started pretty well –  but inevitably declined as they lost sight of the original.
The over-hauled look and fresh approach was similar to the reinvention of Batman – from comic ill-fitting suited Adam West in the 60's to the Gothic moody darkness of the Tim Burton version (with the lead played by Michael Keaton) in 1989.
Batman then lost its way again (except for Michelle Pfieffer appearing as CatWoman in Batman Returns..) until the re-re-invention with Christian Bale as The Dark Knight in 2008.
Watch the trailer fro 'Man Of Steel' here
Supermen? Yes of course.
We don't need a cape and x-ray vision to save the day.
We do it with Window Film!
(of course Mark does wear his pants over his trousers as some sort of homage. We think… if he wears any at all of course..)
Durable
50 years of excellence
We're really good with glass.
Christopher Reeve, Michael Keaton, Michelle Pfeiffer, Danny DeVito, Laurence Fishburn, Bill Nighy, Stephen Rea, Billy Connolly, Jimmy Nail, Timothy Spall,
#flimstars.