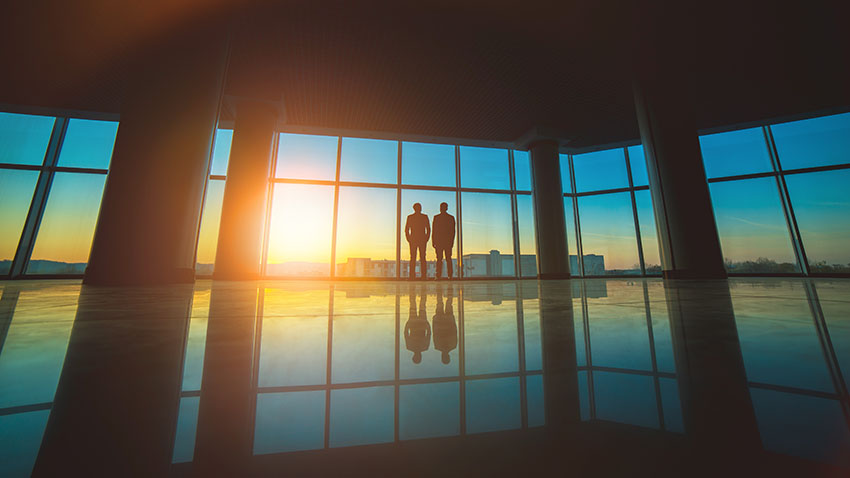 Dark materials…
Posted on - December 9, 2021
The difference between how a sample of window film appears compared with the completed window.
When we give solar control window film samples to customers, we are often told they look too dark.
A trick of the light
Placing a small sample of window film on the glass, then standing back to see how it looks gives a false impression.
The human eye takes in the whole picture – so the bright light around the area with the window film contrasts against it. The brain and peripheral vision perceive the small section of film as much darker than it actually is.
The window film is doing exactly what it as intended for – dimming down the intense light to a more balanced level and providing glare control.
However – when the installation is complete, this 'contrasting' effect is no longer present and the glazed area as a whole appears to achieve the desired effect.
These two pictures illustrate this.
We installed two 3M Scotchtint glare control films to a pane as a trial to assess the brightness control the film will offer.
..
..
As you can clearly see the two glare control films look very dark in the picture – showing the filmed and unfilmed glass.
However, they appear far lighter here once the application is finished to the whole area.
..
..
This is what the film will really look like when you apply the glare or solar control film to all the panes.
NB: These pictures where taken on a dull overcast day, which makes the films look even darker than they will do on a clear sky or bright day.
These glare control films in the picture are reducing the brightness of the sunlight by up to 79% – whilst still allowing the people inside the building to see the lovely view of the garden.
Trust Durable
Durable are the oldest window film in Europe.
We have been in the window film business for over 50 years.
We are trusted by the likes of English Heritage, MoD and National Trust.
Whatever your issue with glass – call us today on 0118 989 5201 or email us at info@durable.co.uk and find out more about how we can help you.
Durable
Good with glass