Do you live in the South West?
Posted on - July 20, 2019
It's a lovely part of the world.
Devon, Cornwall, Somerset, Dorset — beautiful scenery and glorious surroundings — with quieter more peaceful way of life – it's an ideal place to retire.
And of course it gets more than its fair share of good weather.
With many properties situated near the coast or having spectacular sea views or overlooking rolling countryside – it also has more than its fair share of windows too!
Beautiful conservatories, big picture windows, large patio and bi-fold doors to the garden — making the most of the view means a lot of glass.
So it's maybe no surprise that Durable has a strong presence in the South West.
Not only does Peter reside in this neck-of-the-woods (Cornwall) – but the marketing team live here too (Devon)!
Oooh – and our Kevin (installer-par-excellence) lives in Devon as well – so we have everything covered – marketing, surveying and the installation of top-quality window films – all local to you.
Which is lovely for us — but also really handy for you too.
It means we can check out your glass related issues and manage the whole process quicker & easier and with the benefit of useful local knowledge.
Proper job
So whether it's solar control film you need to fix those nasty heat and glare issues every time the sun is shining — or security and privacy film to give you peace of mind if you are in a remote location — whatever your problem with glass we can help.
We are the oldest window film company in Europe and been in the business for over 50 years — there is not much we don't know about managing issues with glass.
Call us today and we'll get Peter to pop round for a cup of tea and a chat.
Here's some we prepared earlier…
Devon
True Vue 40 window film was suggested and installed by us giving the owners of this lovely Devon home protection and peace of mind.
Protecting your fine fabrics, furniture and artwork from harmful UV rays.
We all know that strong sunlight can harm our skin. Powerful UV rays are not only the reason many of us spend the summer peeling layers of burnt skin from our lobster-red bodies — it's also the cause of skin cancer.
No laughing matter.
And this very same UV radiation can cause havoc with our soft furnishings
Fabrics used for curtains, carpets, sofas and clothing — exposed to too much direct sunlight will become damaged and faded. Hard wooden furniture is at risk too. Prolonged exposure to UV from the sun will tarnish and discolour expensive modern items just as badly as those family heirlooms and treasured antiques.
With minimal disruption, mess and no impact to the look and feel of existing dà©cor — Window film is almost invisible but its high-tech properties make it the perfect solution.
AND it reduces up to 76% of transmitted heat and 99% of UV rays!
Professionally specified and installed window film offers a brilliant way to protect all your valuables, fabrics and furnishings.
Solar Control Window Film? Speak to us.
Relatively simple, quick and easy to install, window film is the efficient cost effective way to manage a multitude of solar control issues.
In fact, the owners of this property had previously engaged us to fix a heat and glare issue through their glass roof.
They were so impressed with our Kev that they waited over 8 weeks so he could personally install the film in their dining room.
Somerset
The owners of this lovely house found nothing relaxing about being in Bath.
(that's the place in Somerset — not the tub — yeah, we know — play-on-words init?).
The problem was the intense heat and glare streaming through their large patio doors.
Although the huge panes of glass let beautiful natural daylight flood into the room — they also became a nightmare when the sun shone too brightly or too long. The living space was rendered practically unbearable.
On top of the stifling heat and eye-blistering glare, the UV from the suns rays could also adversely affect fabrics, soft furnishings and wooden floors etc.
Devon [2]
Barnstaple College has a lovely hair salon on campus — ideal for getting student-discount-rated barnet reworkings.
BUT…
The budding Sorbies, Clarkes, Friedas and Sassoons had more than just unruly teenage mops to cope with.
The high vaulted ceiling and large windows made for a beautiful studio space — but made it almost impossible to work in, due to the persistent heat and glare every time the sun came out.
A "little off the top" was in danger of becoming 'a lot'.
Cut to the stylish solution…
The Durable team were called in and swiftly proposed external solar film — correctly installed (during mid term break) it controlled the problem easily, making the space a practical and comfortable working environment for Customers and Staff at last.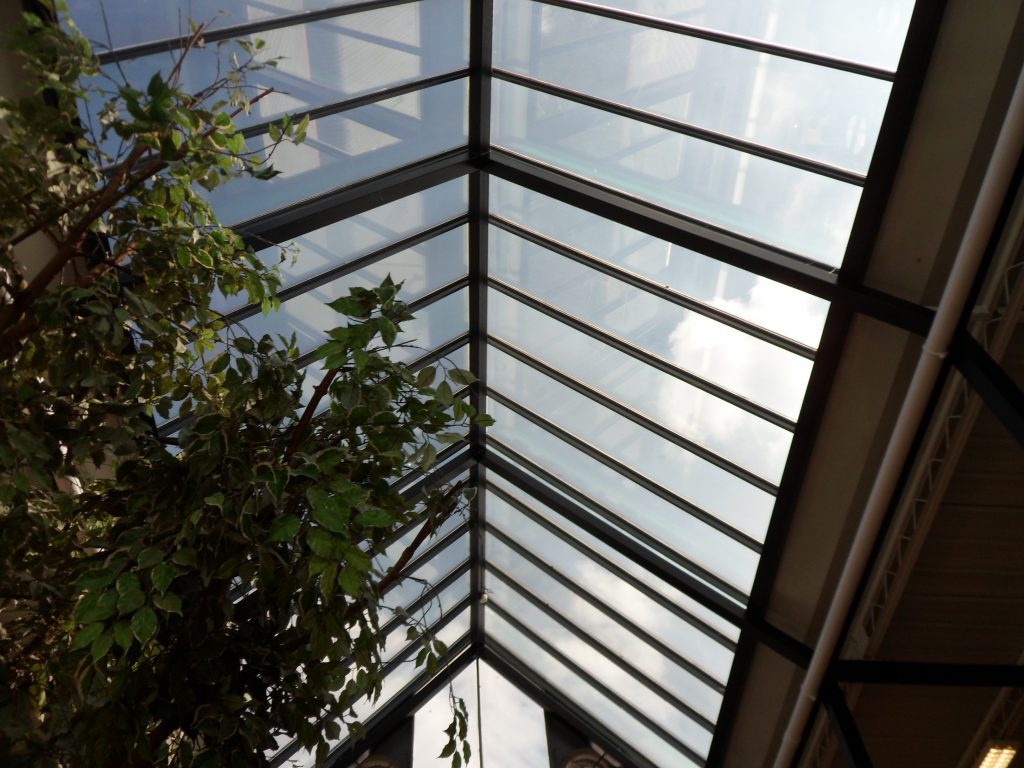 We applied 3M Prestige 40 window film — et voilà — problem solved.
Prestige reflects 70% of the suns heat but is virtually invisible. Views are uninterupted and soft furnishings are protected.
Prestige is a High-spec, High-tech, High-end window film from 3M. It's a marvel of technological development and scientific application.