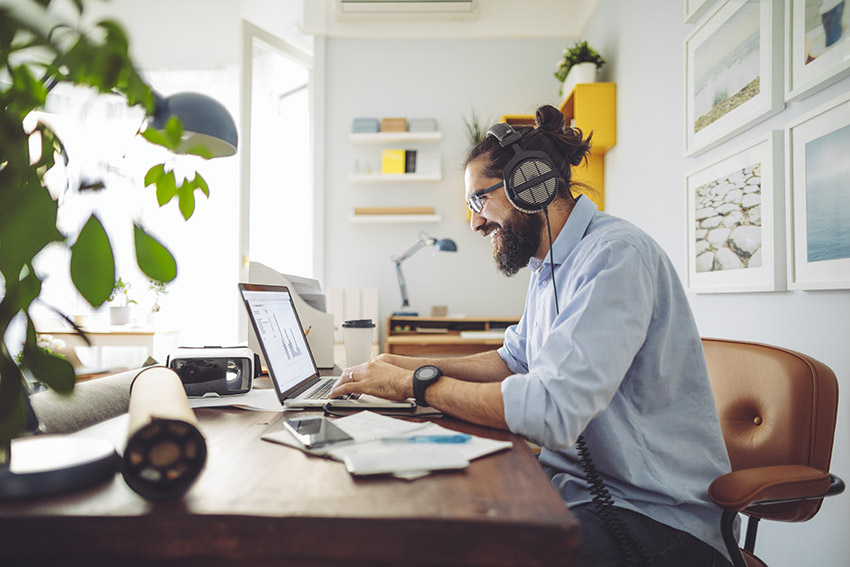 Make your home-office more comfortable
Posted on - April 17, 2023
It's just over 3 years ago now that Boris Johnson decided to 'lock-down' the UK in an attempt to stem the spread of Covid-19.
That aspect of the pandemic meant many of us started working from home instead of the office or usual workplace.
Coronavirus has miraculously disappeared [?!] but there are still many people working on a more frequent and regular basis from their own home.
A bi-product of this is the discovery that your 'home office' – whilst great for a hour when you get back in the evening, or for a few hours on Saturday – is pretty uncomfortable for a full working day.
It needs some tweaks.
Apart from the obvious (comfy seat, better desk, less storage boxes and kids junk, etc) – there are some actual alterations that can be made to make your home-office life so much better.
..
..
Reduce heat and glare through your windows
Often the home office is a small room – so if the sun is out, it's likely it will get very warm very quickly and stay that way. Hot and sweaty.
The sunlight also streams onto your PC screen, tablet, phone, or TV making them impossible to see properly. Glare hurts your eyes and makes concentrating difficult.
Of course, you can pull the curtains or blinds if you have them – but then you're working in a gloomy sort of black hole – which isn't very pleasant either.
A simple and effective solution is solar control window film from Durable.
It can cut out up to 80% of heat and glare and almost completely eradicate harmful UV rays too.
..
..
Overlooked?
Another issue with your home-office may be that it is visible or over-looked by neighbours and passers-by.
Maybe you don't have valuables on display, and perhaps the nature of your on-screen material is not sensitive – but it's nice not to be gawped at or have everything on show.
Having what looks like expensive stuff, clearly visible, does present a gift to potential burglars or opportunistic thieves.
Once again Durable have the perfect solution: Privacy window film.
From opaque, frosted or mirrored to a partially obscured finish – privacy film can not only add security and peace of mind but also looks great.
..
..
Whatever you use your home-office for – watch catch-up TV or online shopping rather than cracking on with your day job – there is no doubt it will be greatly enhanced and a much more usable space than it was before with the simple addition of some window film from Durable.
Feel more at home in your home-office with window film from Durable.
Durable
We're good with glass.
0118 989 5201  |  mail@durable.co.uk
..
..