Making the grade
Posted on - July 10, 2021
Timbuk 2
Not the city in Mali in the Sahara – the band.
No? Don't remember them?
They had a hit with "The future's so bright".
The chorus goes "I'm doing all right, getting good grades. The future's so bright, I gotta wear shades".
What strikes me about this is the relevance to a recent job we did using 3M's excellent Prestige window film.
Bright idea
Firstly the building was a beautiful grade 2 listed building – so good grades indeed.
Although there are always added problems dealing with listed buildings – but nothing we can't deal with of course.
We are trusted by the likes of English Heritage, The National Trust and the MoD – so we're an experienced, safe pair of hands.
Secondly the new extension was suffering from literally being too bright – and shades or no shades – it was making things uncomfortable.
We have over 50 years helping people with solar control issues. We are, in fact, the oldest window film company in Europe.
So there.
3M
We've worked with 3M throughout that time and the quality, performance and benefits of their high-tech products are second to none.
3M Prestige window film is a premium product. It gives amazing protection whilst being almost invisible to the eye – ensuring the finished installation has minimal impact on the look of the property.
Extension
Our customer had built a lovely new extension to their grade 2 listed home.
It's a great, stylish addition, and works very well.
However, in trying to let the rooms flow into the garden an issue arose due to the south west facing aspect of the large new patio doors.
..
..
The heat from the sun was making the living space unbearable.
Excessive heat & glare pouring in also presented further problems with potential damage to the new soft furnishings, flooring and fabrics.
..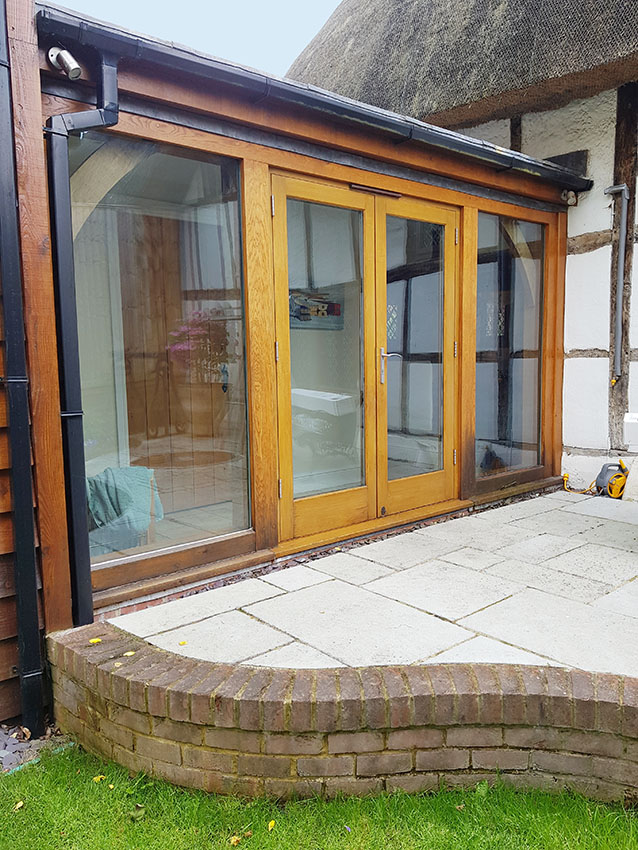 ..
Durable to the rescue
We suggested externally applied 3M Prestige 70 window film.
This brilliant product reduces significant amounts of solar gain whilst maintaining excellent natural light-levels.
On top of that, Prestige cuts out 99% of the harmful UV rays.
Prestige is so subtle it's almost impossible to even see it in the photos!
Another top job delivered on time and on budget.
Durable
Good with glass