Not fade away…
Posted on - July 10, 2018
The beautiful Devon Countryside — who wouldn't want to gaze out at that over breakfast!
Idyllic setting, gorgeous weather and a stunning house — what else could you wish for?
Well — although this dining room does have a great view out of a lovely big window — but excessive sunlight was causing concern.
The negative and destructive power of the sun's UV rays can cause real damage to soft furnishings, fading on expensive or delicate fabrics and even artwork and other valuables.
But how do you prevent the unwanted damage whilst maintaining the amazing open aspect, sweeping views and allow as much natural daylight into your home as possible?
Protecting your fine fabrics, furniture and artwork from harmful UV rays.
We all know that strong sunlight can harm our skin. Powerful UV rays are not only the reason many of us spend the summer peeling layers of burnt skin from our lobster-red bodies — it's also the cause of skin cancer.
No laughing matter.
And this very same UV radiation can cause havoc with our soft furnishings
Fabrics used for curtains, carpets, sofas and clothing — exposed to too much direct sunlight will become damaged and faded. Hard wooden furniture is at risk too. Prolonged exposure to UV from the sun will tarnish and discolour expensive modern items just as badly as those family heirlooms and treasured antiques.
Typical sun damage to hard wood floor
Typical sun damage to Soft Furnishings
Durable have the answer
True Vue 40 window film was suggested and installed by us giving the owners of this lovely Devon home protection and peace of mind.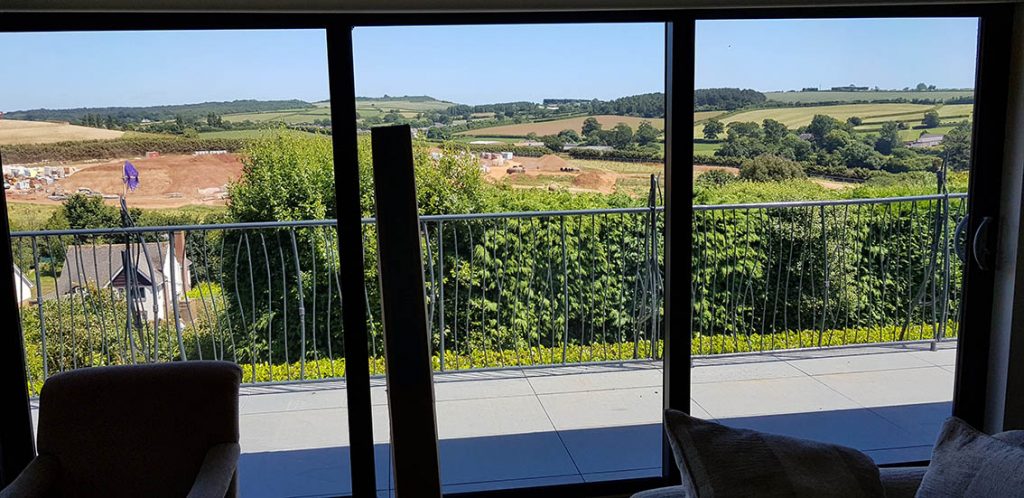 With minimal disruption, mess and no impact to the look and feel of existing dà©cor — Window film is almost invisible but its high-tech properties make it the perfect solution.
AND it reduces up to 76% of transmitted heat and 99% of UV rays!
Professionally specified and installed window film offers a brilliant way to protect all your valuables, fabrics and furnishings.
Solar Control Window Film? Speak to us.
Relatively simple, quick and easy to install, window film is the efficient cost effective way to manage a multitude of solar control issues.
In fact, the owners of this property had previously engaged us to fix a heat and glare issue through their glass roof.
They were so impressed with our Kev that they waited over 8 weeks so he could personally install the film in their dining room.
It must be love.
We think they might actually adopt him.
We've rented his room out already…
Not fade away
"Not Fade Away" was a 1957 hit for Buddy Holly, later charted again for the Rolling Stones and covered by The Everly Brothers, Grateful Dead, Stevie Nicks, Bon Jovi, Sheryl Crow and Florence and the Machine – to name but a few.
See the Stones version here:
Call us
Durable have nearly 50 years of experience in dealing with glass.
We are the oldest window film company in Europe.
We are an authority on glass issues, trusted by the likes of the MoD, English Heritage, National Trust and more.
Durable — good with glass
0118 989 5201 | mail@durable.co.uk