One barn every minute
Posted on - July 25, 2018
Well not quite every minute.
But we do seem to work on a lot of barn conversions.
The beautiful marriage between exposed wooden beams, rough stone interior walls and extensive glazed windows makes for a stunning place to live.
Some of these places are just amazing.
I mean — some have like 3 or 4 bathrooms!
ALL inside!
I'm still having to take the local newspaper with me to the end of the yard for a sit down tbh.
[Possibly too much information, and not necessarily on point]
Although — all this supposed luxury can have it's downside.
Large areas of glass are great for letting through masses of natural daylight — making what might once have been a slightly dark interior gloriously bright.
All good.
But that same desire to let as much light in as possible can backfire when the sun shines too strong, too bright, for too long.
The resultant heat and glare pouring into the living spaces can make them unbearable.
The room can get so hot it's impossible to live with, whilst glare can render TV and computer screens pointless and drive you to wearing your shades indoors!
UV rays can damage soft furnishings, fine fabrics and wooden floors.
[none of these problems affect my outdoor privy though — so…..]
New Forest

An idylic English country location, perfect for this gorgeous barn conversion home.
However — they experienced exactly the kind of solar control problems outlined above.
Install blinds? Shades? Curtains pulled? Air-Conditioning?…
It's sometimes not possible to see the wood for the trees.
Even in a forest.
The Cure
Durable to the rescue once more. Simple, efficient, cost-effective solar control window film, professionally installed can reduce heat and glare by 80% and virtually cut-out UV rays entirely.
We specified and fitted True vue 15 window film — the perfect solution.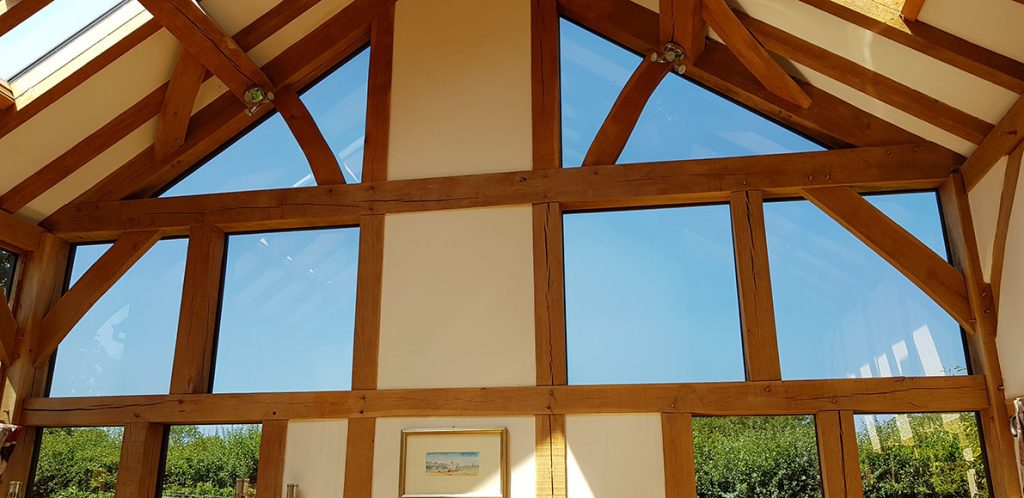 Our range of window films help with a multitude of glass issues.
Everything from keeping you cool in the conservatory to making your home more safe or secure, enhancing privacy or adding a decorative touch.
"A Forest" is a song by the English alternative rock band the Cure. It was released as a single from the band's second album Seventeen Seconds on 8 April 1980. It was their debut entry on the UK Singles Chart, reaching number 31. The accompanying music video was first shown on BBC's Top of the Pops programme on 24 April 1980.
Good with glass
Durable have nearly 50 years of experience in dealing with glass.
We are the oldest window film company in Europe.
We are an authority on glass issues, trusted by the likes of the MoD, English Heritage, National Trust and more.
Durable
0118 989 5201 | mail@durable.co.uk