The Greenhouse Effect
Posted on - August 2, 2020
It's common knowledge – if you want to give your plants the best start and grow really big and strong the best place for them is a Greenhouse.
All that glass maximises the power of the sun, concentrates its energy and keeps all the heat and humidity inside.
Brilliant.
If you are a plant.
Not so good if you are a child though.
We all want our children to grow up fit and healthy – but I think you'd agree that keeping them in a greenhouse would be a silly idea.
But that is what this school inadvertently did.
Sort of.
Let us explain…
Too hot in school
This school was opened in 2017.
Very new and a very modern design, part of which was a glass canopy outside a number of class rooms to give rain cover for playtime whilst also allowing maximum visible light into the classrooms.

However – during the summer months this area became completely unusable.
Temperatures regularly reached over 40ºC.
Something had to be done.
After another blistering summer in 2019, they asked Durable to come up with a solution to this unwanted and unfortunate greenhouse problem.
We advised that an application of an external grade Silver 20 window film onto the problematic glazing – on the side exposed to the sun.
A trial was commissioned during April 2020 and before this had even been finished the school gave the go ahead for the whole project to proceed.
The dramatic effects of the film in lowering temperatures under the canopy was self-evident.

As we write [today 30/7/20] there was a ground temperature measured of 43ºC just outside the canopy – BUT only a few feet away under the canopy fitted with our film the temperature was 25ºC!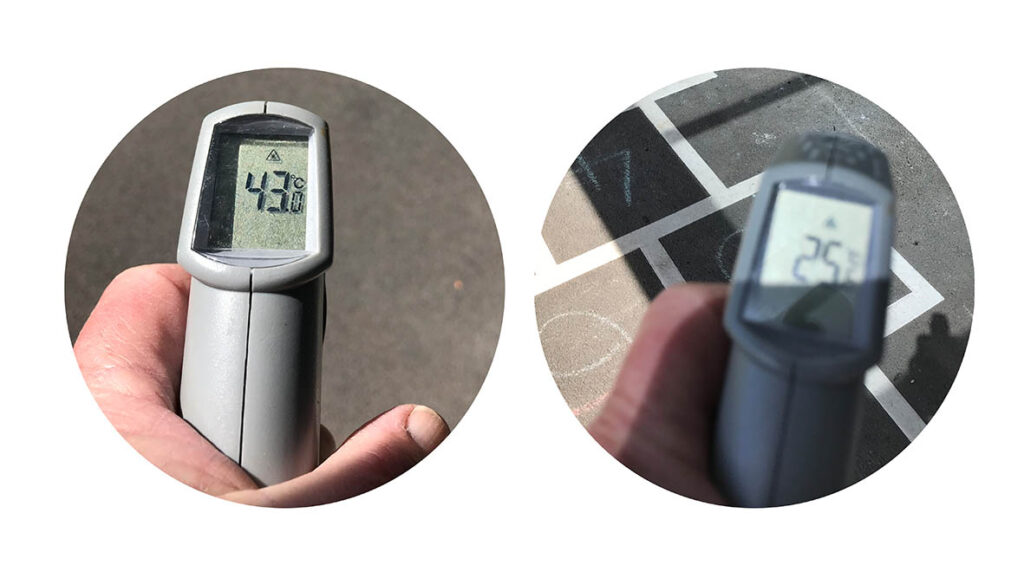 This – on one of the hottest days of the year – meant Children could safely play under this lovely feature canopy without melting…

The project is a big success – delivered on time and on budget.
Result!
Danger, danger
We all know kids and glass don't mix. And any incident involving a child and broken glass is to be avoided at all costs.
Durable offers a full glass audit – which surveys all you existing glazing and provides a report – giving you all the information you need to ensure you are safe, legal and compliant.
There is a duty of care to make sure everything that can and should be done to protect against accident or injury has been carried out and due diligence has been followed.
Durable can advise on solutions to all your glazing issues and have a wide range of solar control, safety, security and privacy films to fix any problems you may have.
Durable have been in the window film business for over 50 years.
We are the oldest window film company in Europe.
We are trusted partners with the likes of English Heritage, MoD and The National Trust.
We are good with glass.
Call or email us today to find out how we can help you.